Restoration Clinic
September 9
Organizers:
Car Owner:

Mechanics:

Ron Taylor & Al Bohn
John Ftacek
Max Phillips, Paul Ranney, Dave Casey, Felix Boston, John Sullivan,
Ed Angel, Gerald Walker, Charles White, John O'Laughlin, J R Howard,
Glenn Schiller, and Jim Cunningham who hosted the event.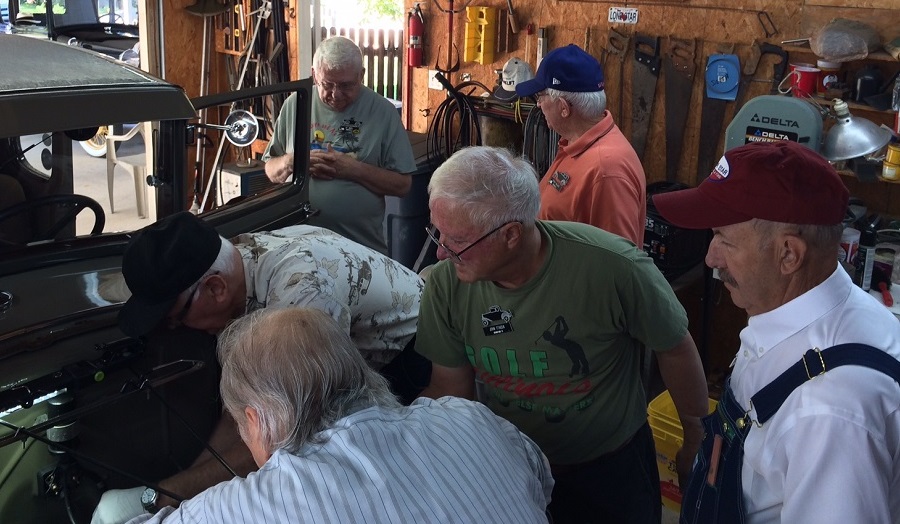 Al, John S., Ed, John F., and Gerald are involved in removing parts.
---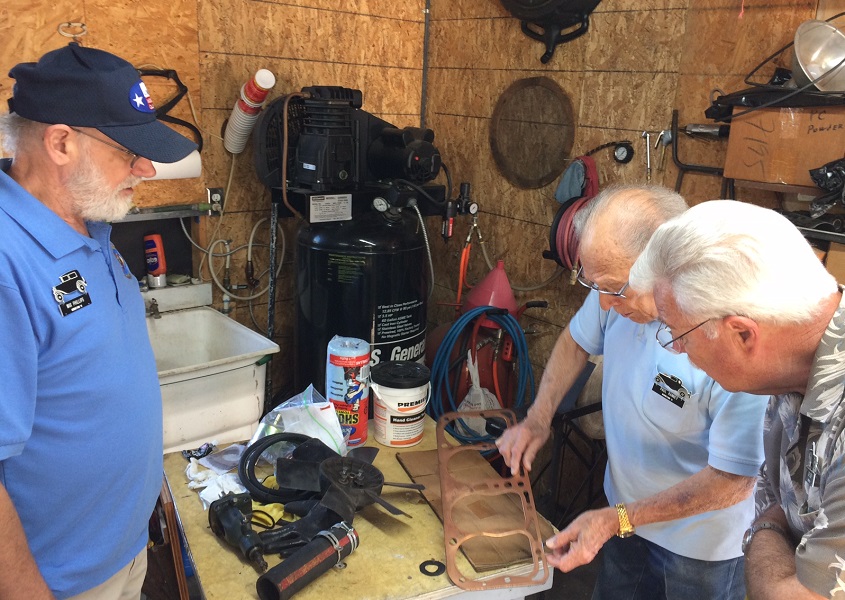 Max, Paul, and Dave examine the new head gasket.
Dave recommends coating it with a "copper gasket sealer."
---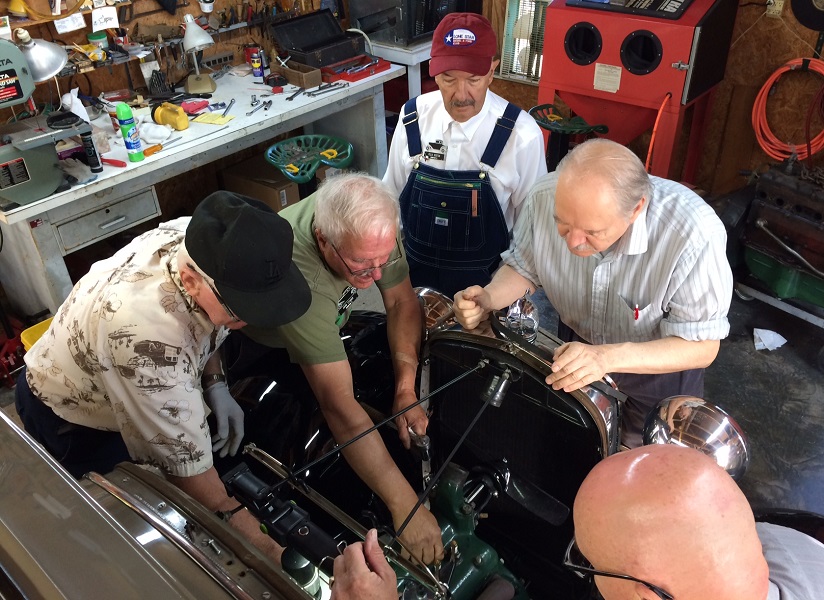 Al, John, Felix, John S. and Ron look to get their fingers in the pie.
---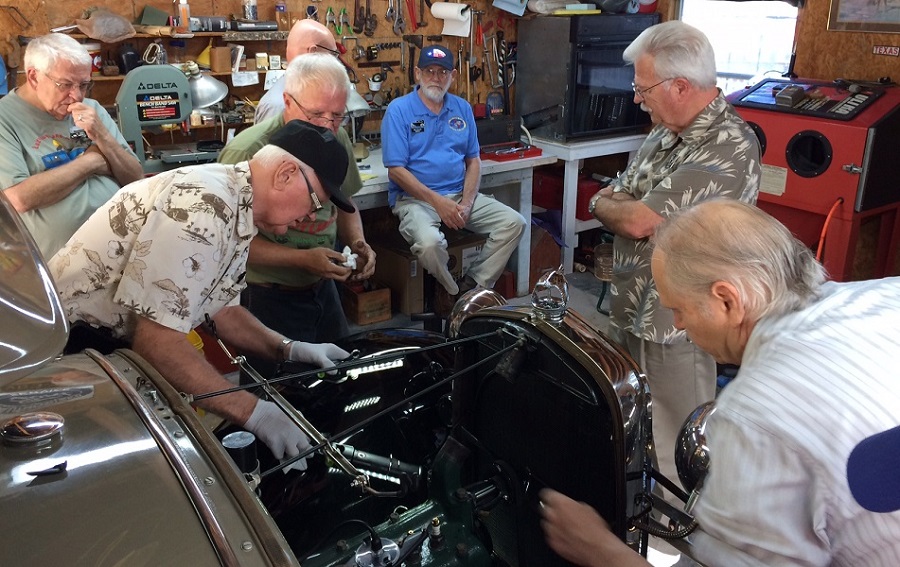 Ed, Al, John F., Ron, Max, Dave, and John S.
---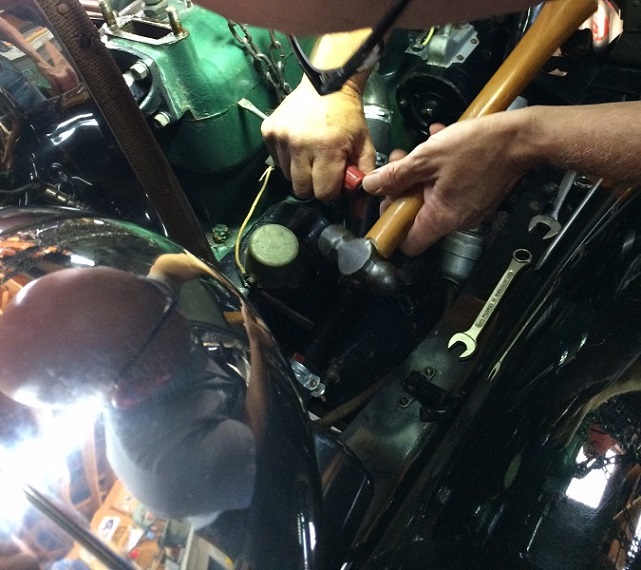 After loosening the head bolts and removing the fan belt,
compression alone dosen't release the head.
Ron employs several screwdrivers and hammers and then chisels to raise the head.
---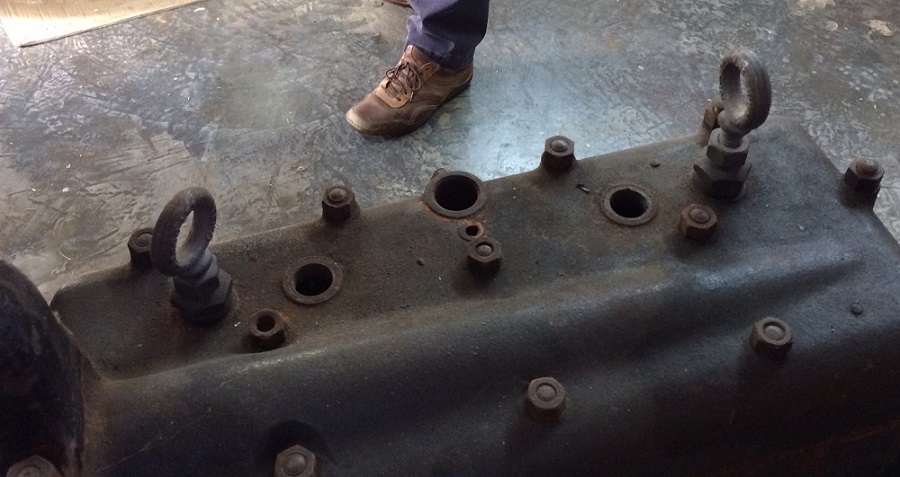 Eye bolts on an old engine are used to lift the head or the whole engine.
---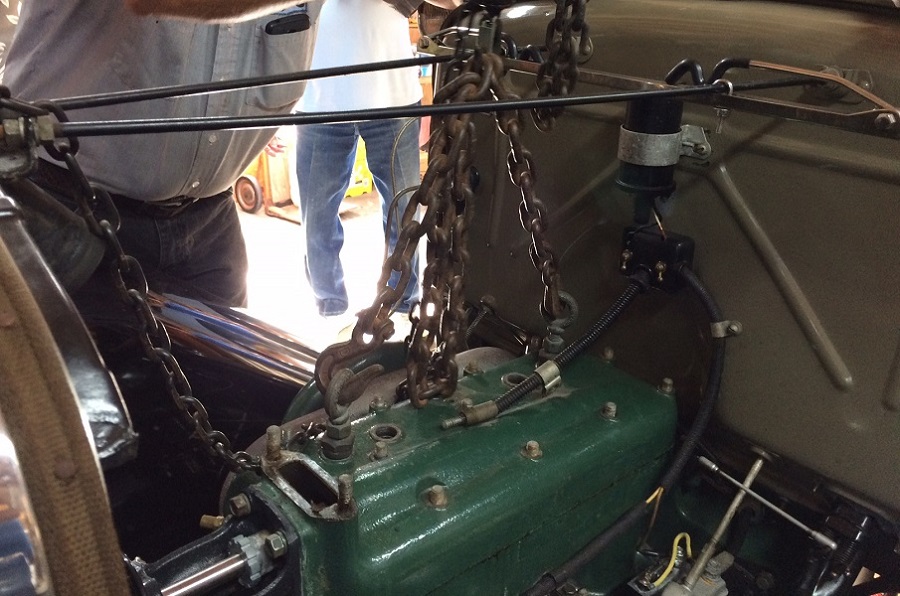 Eye bolts are installed in the spark plug holes to lift the head off the engine.
---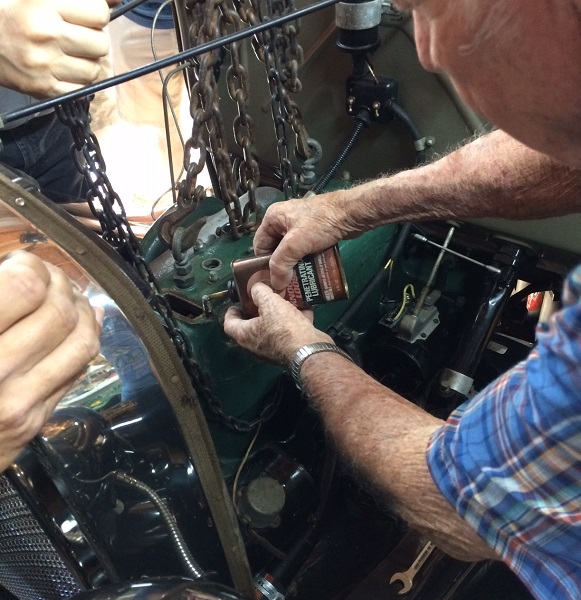 The bolts for the water outlet seem to be the problem;
so, Jim & Al add lots of penetrating lubricant.
---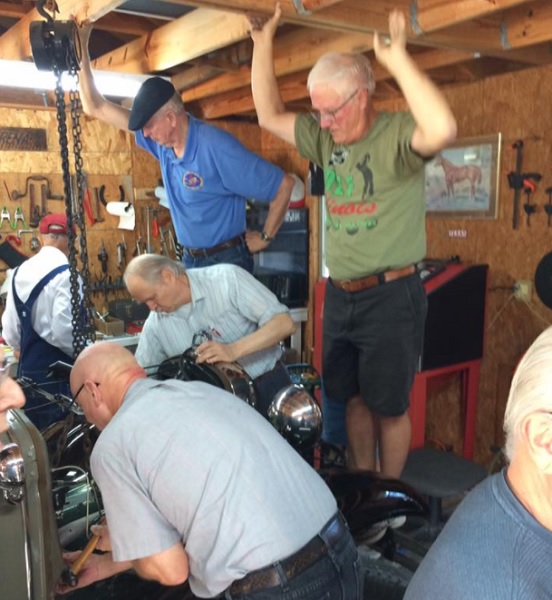 J R and John F. stand on the bumper to add 350 pounds of down force.
---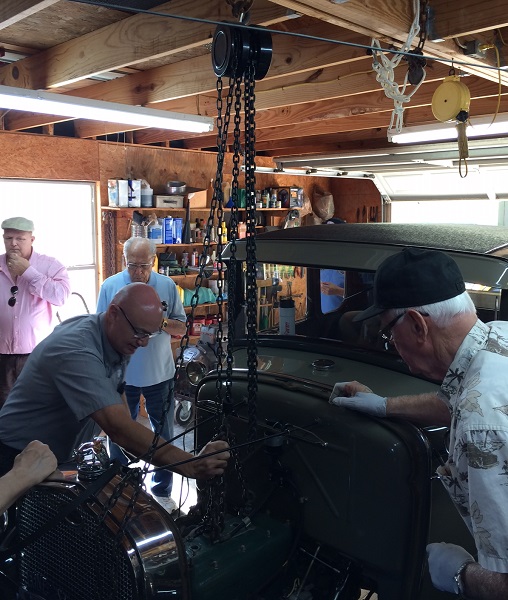 Ron shakes the chain to break the head loose. Charles, Paul, and Al observe.
---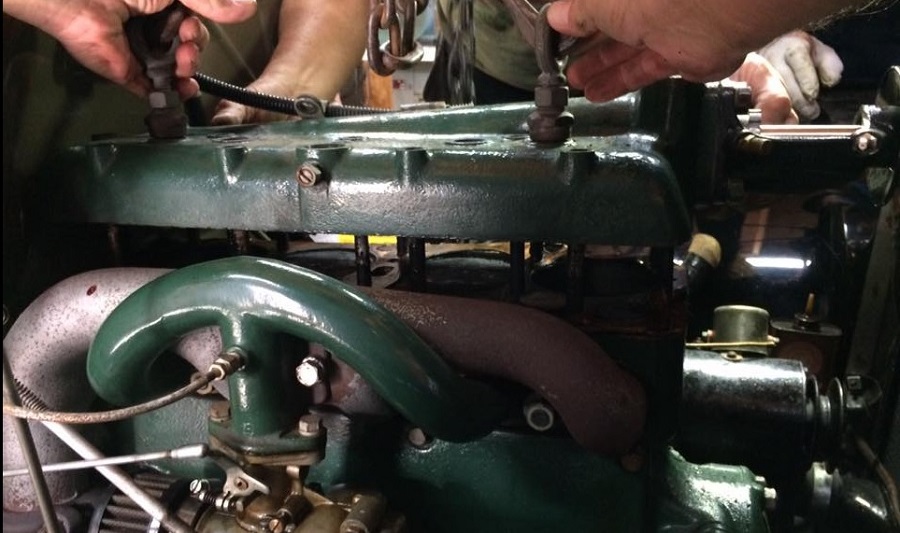 Free at last.
---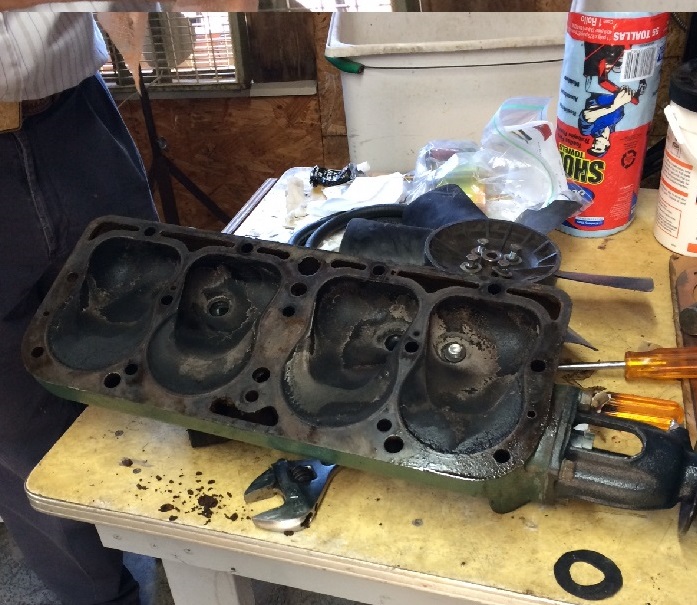 The head had a fair amount of carbon build up.
---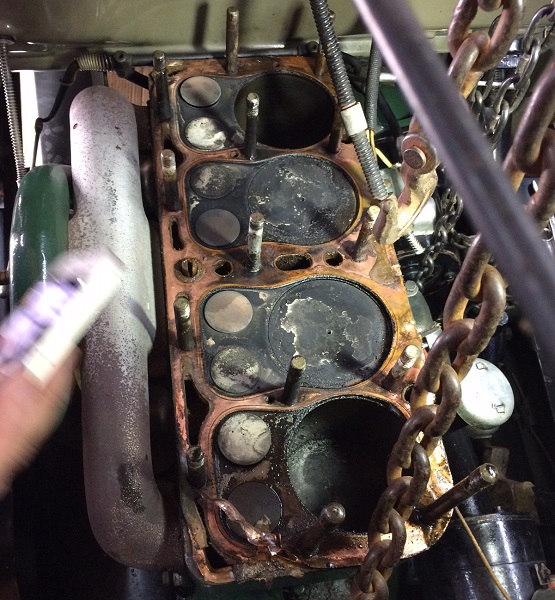 The top of the pistons and valves also have some carbon.
The old gasket did not survive.
---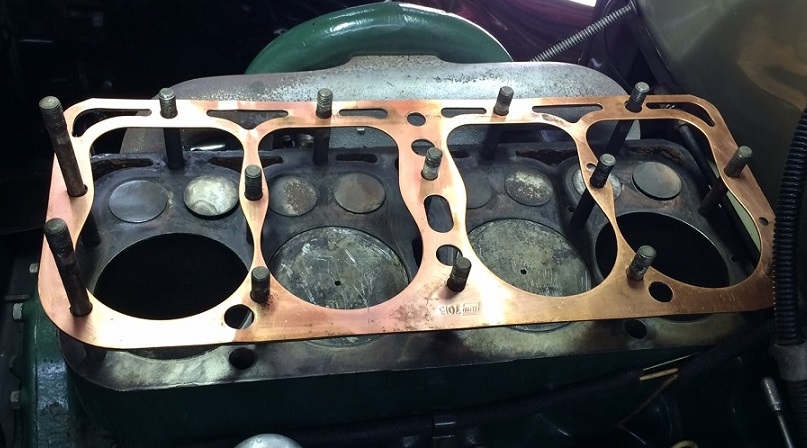 Several hands cleaned the top of the block, and a new sandwich gasket is in place.
---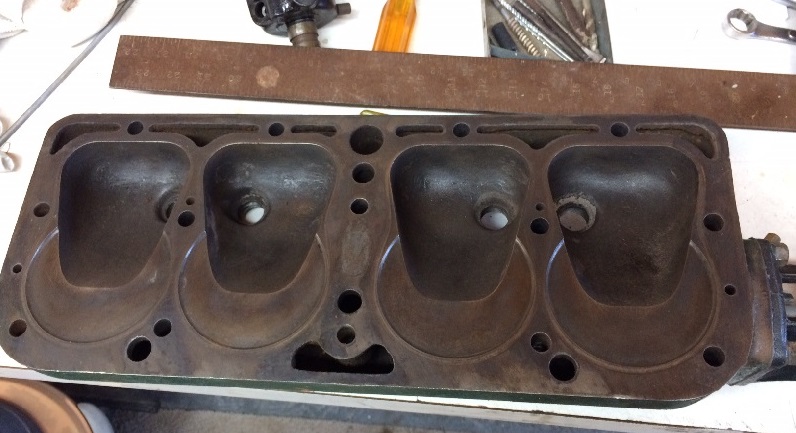 Gerald, John O., and J R clean it using screwdrivers, a putty knife,
and wire wheels. Dave drilled out a lot of carbon in the head bolt holes.
Laying on the square showed a very flat surface.
---
In summary: loosen head bolts, crank the engine, remove the water pump and fan belt, add penetrating fluid, remove the distributor, crank engine, add eye bolts and lift, add two guys on the bumper, use bigger hammer, add penetrating fluid, use bigger screwdriver, shake the hoist, add penetrating fluid, hammer in a few chisels in the gap, and jack up the rear end. Lift just the front eye bolt, and it finally moves off the bolts. Clean parts, reassemble, add water, start engine.

Then the brakes on Sondra Carlton's car were adjusted,
and the brakes & timing were attacked on Glenn Schiller's car.

The harder the task, the more you learn.