"Organized September 26, 1993, the Lone Star Model A Ford Club is a Chapter of the Model A Ford Club of America, a national historical society dedicated to the restoration and preservation of the Model A Ford automobile as manufactured from 1928 through 1931." Our Charter was issued on December 4, 1993.

The club's first web site was created by Rebecca Ann Jordan in April 1997 which was hosted for free by MAIN at www.main.org/lsmafc. As the organization grew, the free site would not hold all her content. In October 2007, she bought lonestarmafc.com, and continued to be the webmistress until February 2015 when J R Howard took over.

That was the formal description. The informal description is much harder to pin down:
We are a group of people who love driving "Henry's Lady."
This interest crosses all age groups from young families with small children to the retired generation.
Our membership includes more than 85 families and over 100 Model A Ford automobiles.
We have official meetings once a month and informal breakfast meetings every Saturday morning. In fact, we've been meeting so long, the club was recognized in the Congressional Record.
We have car clinics, we kick tires, we provide photo opportunities, we join parades. Shoot, when we get three Model A Fords on the road, we are a parade!
Mostly we drive our Model A's. We have been known to drive somewhere just to eat lunch. The best thing about going somewhere together is that no one is ever left on the roadside. If anyone has mechanical difficulties, these guys just love to get under the hood. Previous tours include:
The Texas Tour every June
Spring Wild Flower Tour
The Mystery Tour in May - also known as "Follow the Leader and Trust in Ford"
Picnics / Onion Creek Hickory Classic, /Ice Cream Socials / Pistons on the Square
Taylor Car Show and the Texas Early Day Tractor & Engine Show
A Christmas Shopping Tour in November
We have driven from Georgetown to Big Bend National Park and back. (Well, most of us made it back on our own four wheels. Some of us needed help.) We have been to Marlin, College Station, Salado, and Elgin, not all in the same day, but all in Texas. We have also driven to Baton Rouge, Louisiana in 1996 and to Breckenridge, Colorado in 1995 where the club was awarded the "Hard Luck Trophy." Some of us returned to Breckenridge in 2001 for 2001 Miles in a Model A Ford.
We hosted the 35th, 42nd, 50th, and 56th Annual Texas Model A Ford Tours. We look forward to the Annual Texas Model A Ford Tour every June.
The Lone Star Model A Ford Club is tax exempt from Federal income tax under section 501 (c) (7) of the Internal Revenue Code.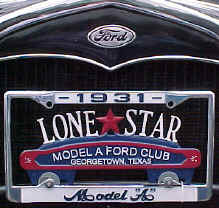 Please note that it is not necessary to own a Model A Ford to belong to LSMAFC - all you need is an interest in "Henry's Lady." Ford produced more than 5 million Model A's in various body styles, and it is amazing how many are still on the road today. We welcome you to join the club and drive "modern iron" on our tours. The newest cars are relegated to the back of the line, but believe me when I tell you that, it just gives you more incentive to buy a running Model A Ford of your very own.

We have a Facebook group page for dues paying members. Simply do a search for LSMAFC and select Lone Star Model A Ford Club.
Questions or comments about the Lone Star Model A Ford Club? Contact us.
.
css3 generator by Css3Menu.com